[ad_1]

MINNEAPOLIS – I've seen this movie nearly all season and it's getting harder and harder to watch.
Earlier this year Nebraska lost three games to top 10 teams in different ways, but their 30-23 loss to Minnesota was different.
The Huskers came out flat. The Gophers wanted it more early. They looked like a team fresh off a bye week, and the Huskers looked like a team that played eight straight weeks, coming off three straight night games. They were not up for this 11 am game in Minneapolis, and it showed out of the gates. NU came to work like a bartender that just closed the night before and was told he had to work the lunch shift the next day. They weren't locked in.
Still, though, they teased us and gave us some glimmers of hope that they could win this football game. NU had the ball three straight possessions inside the 35-yard line down 5 points and came up with nothing. The defense forced two straight interceptions and followed that with four straight punts. The game had flipped after the Gophers had built a 21-9 lead. Good teams close out in that situation.
"We always come close, and close isn't enough for the record book," junior corner Cam Taylor-Britt said. "It's either a W or an L. It continues to be L, so we need to push that over to some W's."
The Huskers now move to 5-17 in one-score games under head coach Scott Frost.
NU seemingly continues to find new ways to lose games, and on Saturday it simply came down to a flat start and then poor execution in the red zone in the second half.
"You can point blame to a lot of different aspects, but ultimately it's just on us," senior linebacker JoJo Domann said. "It's on the leaders, it's on the coaches, it's on the players – we are better than that, and we didn't show it.
"We just have to score. It's a game of stops and scores. We started to get some momentum and we didn't put the nail in the coffin."
With just four games left, making a bowl game sure seems like a pipe dream for the 3-5 Huskers.
It would require this team to finish 3-1 and beat at least one ranked opponent.
It's gotten to the point where guys are lost for words. What do you say after this one? NU got beat by a team that lost to Bowling Green at home and was on their third-string running back.
"Everyone knows what we bring to the table and everyone knows what type of team we are," junior defensive lineman Damion Daniels said. "Everybody knows that's not how we play ball. Everybody knows the type of ball we play."
The question is has the ship sailed now for 2021?
Now on to the breakdown…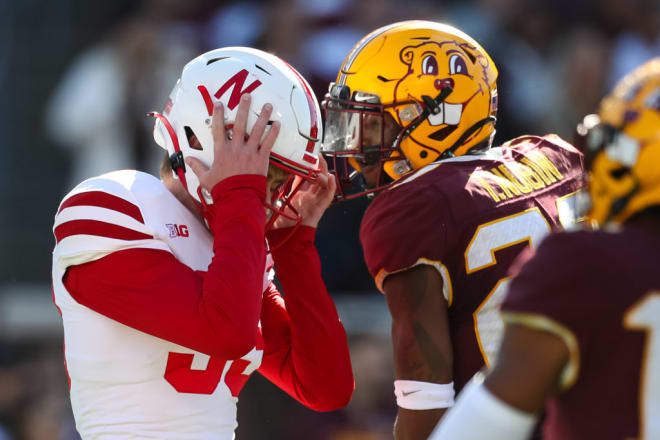 What I saw on Saturday 
***There's no question Nebraska played through heavy hearts on Saturday after the news defensive coordinator Erik Chinander's father was tragically killed in a car accident. As Frost said though, Gene Chinander would have wanted his son to coach on Saturday.
It's too bad the Husker could not take advantage of the defense's second-half play where they forced two picks and four straight punts. Minnesota only had 67 yards of offense on 21 total plays over that six possession span.
***After an early drop Saturday, tight end Austin Allen played the best game of his career, coming down with five catches for 121 yards and one touchdown. He looked like an NFL tight end.
***The Gophers came out like a team fresh off a bye week. They looked prepared and they had some things that really gave the Husker defense problems early. They scored three touchdowns and missed a field goal on their first four possessions, including an opening 14-play drive that ate up nearly 8 minutes of clock. In the first quarter, Minnesota had the ball for 11:41 alone.
***I thought the game really turned for the Blackshirts once Cam Taylor-Britt blew up the flee-flicker that took the Gophers off schedule.
***Early on Minnesota wide receiver Chris Autman-Bell gave Nebraska a lot of problems, as he had nine catches for over 100 yards in the first half. He did nothing in the second half.
***Football is a funny game. Tanner Morgan completed a school-record 16 straight passes and then he followed it up with two straight picks on his next two throws.
***The Taylor-Britt interception was arguably the best play we've seen from him all season. He made a break on the ball and finally looked like the guy we thought we'd see all season.
***Martinez was just off. He started the game 6-of-16 before finishing 18-of-33. Nothing seemed to come easy and he held the ball too long at times.
***So why didn't Nebraska just go under center at the goal line? I asked Frost, and he said they thought about it, but the Gophers were really good at defending that and there was another reason why he chose not to. Was there an undisclosed injury with one of the players involved that would have made that play tougher to execute?
***You really feel for kicker Connor Culp after making a 50-yard field goal into the wind, he followed it up with a 27-yard miss and a missed PAT. He said after the game some of the mental demons he battled at OU and against Buffalo got back into his head on Saturday.
***It was a rough day for the offensive line. Nouri Nouili got a false start on a crucial third-and-5, Bryce Benhart got beat on the safety play, Turner Corcoran got a false start Matt Sichterman gave up a sack on a third-down play that pushed Culp's field out to 50 yards.
***Nebraska is scheduled to practice on Tuesday and Wednesday over the bye week.
The final grade out 
Rushing offense: D
Other than a small window in the third quarter, Nebraska failed to run the ball with any consistency on Saturday. Rahmir Johnson also left the game with a concussion. 136 rushing yards is not going to get it done. Also, the lack of execution by the rushing offense in the red zone is hard to look past.
Passing offense: D
Martinez was 18-of-33 for 241 yards. Nothing seemed to come easy. The pocket was flushed more often than not, and he was just off when it mattered at times. Austin Allen did play a great game though, finishing with 121 yards on five catches.
Rushing defense: C-
Credit P.J. Fleck for putting together a rushing game plan Saturday with a whole new host of players. The Gophers got 178 yards rushing on 31 carries from their top three backs, led by Bryce Williams, who finished with 127 yards and only had one negative run of 1 yard on Saturday. They stayed on schedule and set the tone of the game.
Passing defense: B
Nebraska got two interceptions from their secondary. That changed the game. Tanner Morgan was 20-of-24 for 209 yards, but those two picks by the secondary should have been enough to win this game. NU won the turnover battle 2-0 on Saturday.
Special teams: D+
The missed field goal and PAT are hard to look past. However, the punting and kick coverage were solid. I'm still going D+ because of the impact this phase had on what the offense did on Saturday. Culp's misses spooked the offensive coaching staff on how to handle different situations.
Sean Callahan can be reached at [email protected] and he can be heard each day at 6:45 am and 5:05 pm on Big Red Radio 1110 KFAB in Omaha during the football season. He can also be seen on KETV Channel 7 in Omaha during the fall and each week he appears on NET's Big Red Wrap-Tuesday's at 7 pm.
[ad_2]

Source link